In sales, personal connections are key. They lead to conversions and foster long-term relationships.
But buyers are now seeking their own information.
Forrester found 68% of B2B customers do online research before approaching a vendor or even encountering a sales rep. Also, 60% prefer that a sales rep isn't their main source of information.
That means: (1) it's now very likely your first contact with a buyer will be online, and (2) you often have to move that conversation into the real world.
Online leads could be from somewhere like a newsletter signup, web search, or social media conversation. You need a plan to fill that online-to-offline space.
Here are effective ways you can do this.
Find and talk to the right people
As a salesperson, your earning potential is linked to your time, and how you use it.
That means you lose money when you chase leads where:
You're not talking to the right person or decision-maker
You're spending a lot of time on leads unlikely to ever convert
When dealing with online leads, this can be a big problem – because the person researching is often not the person buying. But with a little research, you'll discover whether you're talking to a decision-maker before you spend more time.
One way is by using LinkedIn, to see where the person enquiring fits in their organization. Another is to use a CRM that finds these insights for you.
Use an intelligent CRM
Most sales teams now use a CRM to track their leads and sales, and see how they are performing. And often, this is all they use it for.
But many teams now use an intelligent CRM. This is a system that uses automation and artificial intelligence (AI) to help organize and nurture leads across several online channels at once.
By using a CRM that pulls in additional data from the web, you can see useful bits of information which you wouldn't otherwise have. This can help you spot the best prospects, and also to prepare for your call or meeting.
Talk about customer challenges online – without the sales speak
Picture the kind of sales emails you receive on a day-to-day basis. Many talk about what their product can do, not your challenges. They just push you to buy.
Annoying, aren't they?
But often, an online lead is the result of a prospect searching for an answer to a problem. If you can understand the challenges your customers face, you have an opportunity to solve them.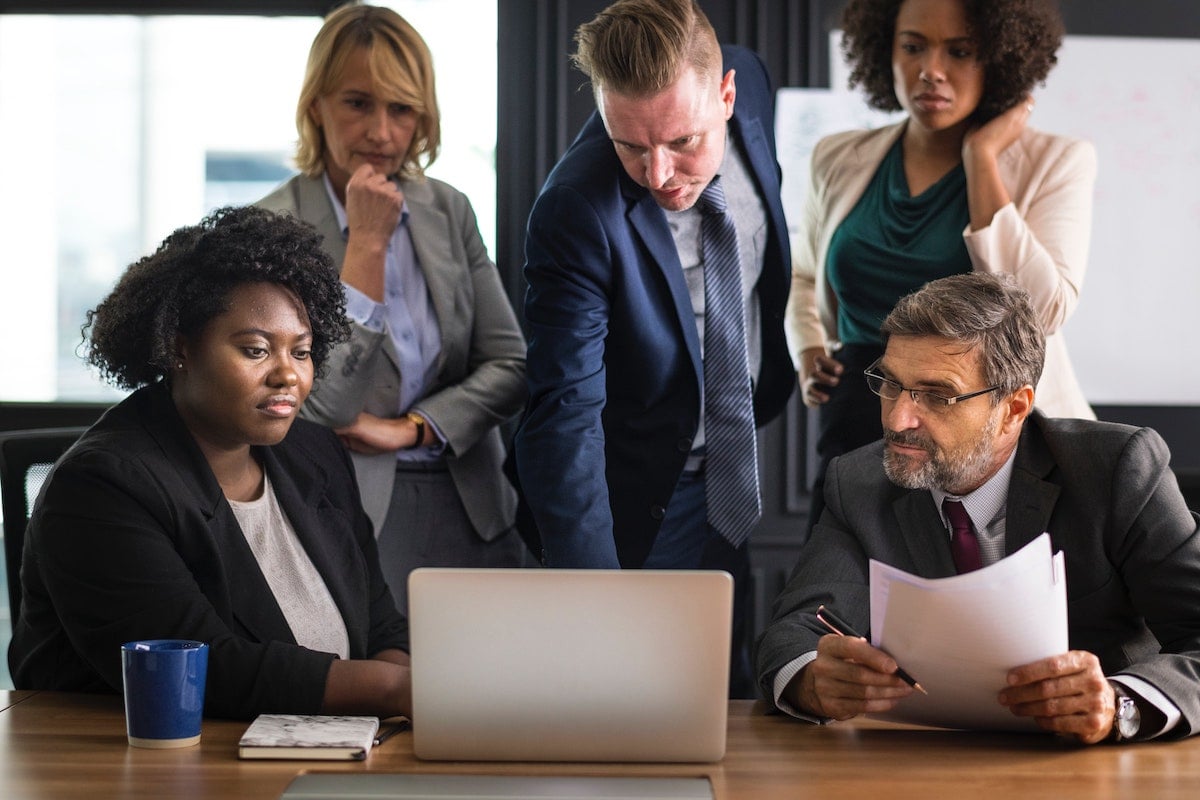 For example, you can use online forums and social media to respond to customer questions and issues.
This is a useful way to gather information on your customers, and what they care about. And once you have built a rapport, you can suggest a more detailed conversation offline.
Look for clues online
Knowing what your prospect is interested in, before you even begin, can make a huge difference to a conversation.
Web tracking tools like Google Analytics, Lead Forensics, or HubSpot can tell you what people are reading on your website. If you know someone from a prospect company is researching, that's a clue. It can tell you what your contact might want to talk about.
Then you can call them, or send a letter or email, to offer a conversation about that subject.
Follow up leads, right now
Sales teams don't just sell. They also need to do admin, and all kinds of other time-consuming tasks. So following up leads from the internet is not always a priority.
It's tempting to think a lead will wait. But the Harvard Business Review says you're seven times more likely to have a good conversation if you follow up within one hour.
When a lead arrives online, you need to act fast. Even if you're busy, a quick email asking some open questions can encourage them to chat about their needs. This can help you build a relationship, and also buy you some time.
And when you're ready to pick up the conversation, you can tailor your pitch to their interests.
In sales, it's what you know and who you know
Leads are always better if there's a personal connection. A relationship means a prospect is more likely to take your call, and they might already understand what you do.
One way to make an online lead feel more personal is if someone you know already has a contact. Maybe they could introduce you.
For example, Sansan's platform lets you see whether anyone in your organization has a relevant business card. You can ask for the details, or an introduction. It's one way to make an online connection feel more human.
In summary: bridge the gap
Internet users like to feel anonymous, so starting a conversation with an online lead is not easy. But five simple rules can make you successful, more often:
Use online search to spend your time wisely
Find out what the prospect wants, before you approach them
Talk about their needs before your product
Follow up leads as soon as you can
Use your contacts to make the call feel more natural
Want to make all your connections count?
Learn more about how Sansan's contact management system can help you to make better use of your organization's connections, to make business more personal.