Contact relationship management (CRM), contact management system (CMS) … what's the difference?
The lines between CRM and CMS are blurred. Each does a bit of the other. It's no wonder individuals and businesses both have trouble differentiating and choosing.
We're focused on business here at Sansan, so let's set the record straight on CRM vs. CMS, and which to choose for your company.
What's a Contact Management System (CMS)?
The idea of a contact manager, or contact management system (CMS, not to be confused with a website content management system such as WordPress), is easy to get your head around. Think of it as a contact list with added features. It's an elaborate digital phonebook.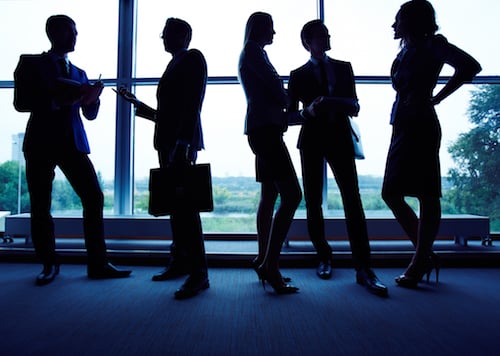 A CMS is a tool/app/solution that lets you easily save and later find contact information such as names, numbers, and e-mail addresses. That's the foundation and where it's basically no different from your contact list. But wait, there's more, lots more.
A true CMS adds in many specified fields (job titles, URLs, company addresses, notes, etc.), has enhanced searching and grouping features. A more advanced CMS will also add layers of security and permission, so it can operate under an administrator. This creates more elaborate scenarios where connections can be tracked and more can be learned about a contact.
There's no defined list for what a CMS may include. Some of the most common functions and benefits are:
Contact list in a collective database
Search functionality
Customizable tags, groups, fields
Phone integration so you can call straight from the contact file
Email integration, often with activity tracking
Mobile access via phone or other devices (tablets, etc.)
Connection to external accounts such as SNS
Reports and dashboards
Advanced features such as business card scanning, lead opportunity management, and internal messaging
Why Use a CMS?
Contacts can be fragmented across different platforms and media. For instance, you may have a stack of business cards, a half-dozen leads in your iPhone, various notes and diaries, and a couple hundred connections on LinkedIn. A good CMS will tie those together and let you throw away lots of paper.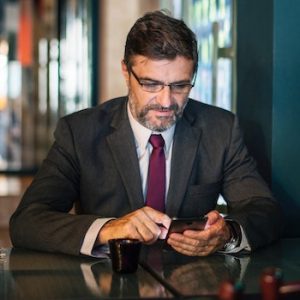 A good contact manager/CMS is easy to use, integrates cleanly with other tools, and fulfills the basic needs of a professional who comes into contact with new people regularly. It can be a handy tool for a solopreneur, small business, or a company that acquires lots of contacts but doesn't need highly detailed follow-up and tracking of them all the way through the funnel and post-purchase.
The order a CMS brings means communication improves with contacts and among all members using the system. A CMS also can help with marketing operations, sales cycle productivity, and service delivery. It does this by allowing creation of accessible and reliable information about both current and prospective customers, in addition to colleagues and other connections.
At its best, a CMS enables departments that frequently deal with customers—such as sales and marketing, customer service, tech support—to collaborate and coordinate cross-function activities.
What's a Customer Relationship Management (CRM) Tool?
While a CMS is great for managing contacts and keeping general tabs on important people, a CRM is for managing the full progression of a customer interaction.
A CRM is a comprehensive software solution for managing customer interactions. A solo businessperson can conceivably use a CRM, though the tool is at its full and proper use at the company level, where many contacts are changing hands and communications are constantly progressing.
As with a CMS, a CRM doesn't have a defined list of elements. In fact, CRMs are notorious for being chock full of stuff you don't need. But the basic features and benefits are:
Capacity for complete customer contact and history; i.e., contact management
Email and phone integration
Sales team and customer opportunity management
Lead management for differentiating lead quality
Reports and dashboards
Notifications on customers' activities on your site
Sales force automation
Sales analytics
Data: customers, sales, service, etc.
Workflow and approvals
Territory management
File syncing, saving, sharing
Chat integration
Call center integration
Role-based views
Social media management integration
Integration with bulling, such as with e-invoicing or digital invoicing
A robust self-contained CMS or third-party integration with a CMS, other CRM that creates a "master-and-slave" relationship, and various useful tools such as business-card scanning
And on and on and on
Thus, the reputation for lots of bells and whistles you may not need.
Why Use a CRM?
Sales and marketing work very hard to get information on potential customers. The old-school type may pocket business cards, jot down notes, keep a journal, even have a desk calendar (remember those?) as their personal method of contact management.
Some may have also accumulated a personal database in a PDA (remember those?), on their phone, and of course in various spreadsheets and documents on their desktop and laptop. And don't forget images of business cards and digital business cards.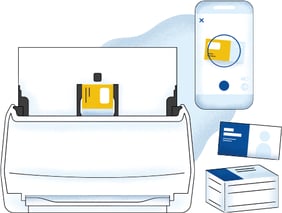 For a company trying to sell, this scattershot array of personal preferences isn't efficient. Contacts get lost and sales don't get made.
A good CRM cleans up the mess and puts the contacts to work so salespeople never have to scramble to find a contact's number or the last time they got in touch.
The CRM's "R" for relationship is the big difference.
Where a CMS centralizes contacts and lets you easily find them and get in touch with them, a CRM gives you a rich batch of functions for fully tracking the customer relationship over time and distance.
A CRM is like your personal social network, geared toward business. It lets you store your prospects and customers, make calls, send individual or batch emails, generate reports, schedule appointments, add notes, manage your sales pipeline, even see who's opened the mail you sent them.
In sum, a CRM, at its finest, is a one-stop shop for your sales (and marketing) teams.
Which Do I Need: CMS or CRM?
If you're a small company, you may only need a decent contact management solution at the outset. Try a few out and have some fun with it. Eventually you'll have to choose one, but needs are diverse and some A–B (and C and D) testing is worth the time to find something everyone in the office is happy to use. When you need that richer level of tracking, monitoring, and coordination, it's time for a CRM.
If you're already ambitiously operating at scale, you've either got a CRM in place or you're ready for one. In fact, you may have been through a bunch of them or have a few at work in different departments. You'll recoup yourself a ton of efficiency if you get a grip on them and unify them as soon as possible. Here, too, it's important to take a few test drives and find the best fit.
In fact, it's more important, because a CRM is a vital piece of corporate infrastructure.
Salesforce is the king of the hill in CRMs and it's an amazingly rich package. But there are many options out there; ranging from free or freemium to many hundreds, even thousands, of dollars a month for corporate-wide, customized implementations.
Where Does Sansan Fit in This Equation?
Sansan defies conventional definition because it's one big part CMS and one part CRM. The beauty of Sansan is its business functionality and its visualizing of human connections in a company.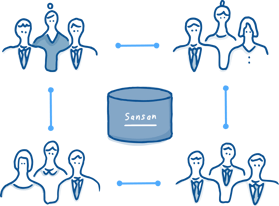 It starts with a business card and moves to 99.9% accurate scanning and creation of a database. At that point, another swimmer is added to your company's pool of contacts. Sansan now surpasses most CMS's because it lets you visualize and develop connections and opportunities, use messaging in and out of the company, share notes and progress, and continue to build the richness of the network. As a residual benefit, it also increases cooperation among colleagues and across departments.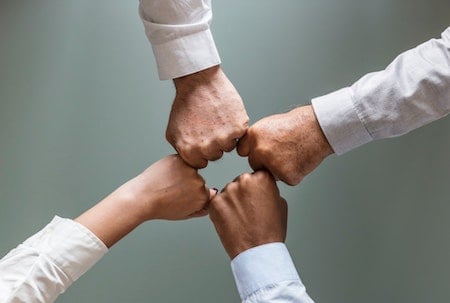 Sansan is both a standalone CMS/CRM and a terrific complement to your corporate CRM solution of choice.
Therefore, Sansan alone can be used as a CRM. With its Open API, it can also be integrated into Salesforce or another large CRM, feeding rich and valuable contact data into your greater sales ecosystem.
Article by Adam Goulston, MBA, MS
---
Business cards are the building blocks of Sansan's unique content management and CRM tool. Learn more about the Sansan solution for your business. Download a brochure or simply get in touch.