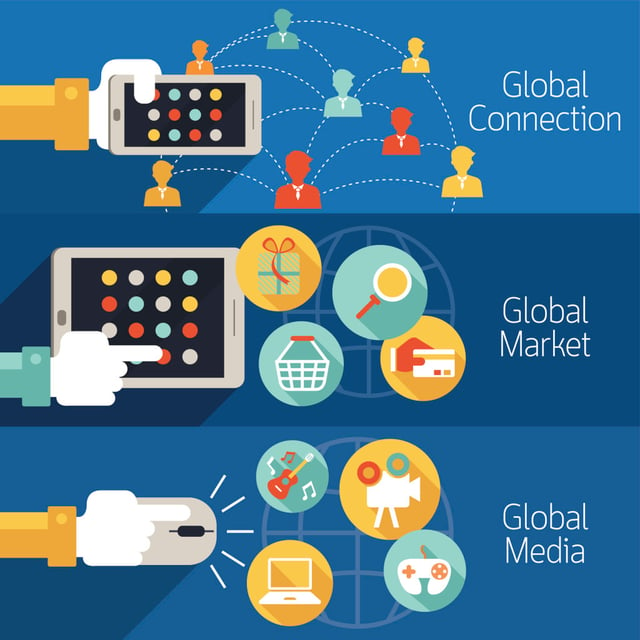 A brave new world of digital innovation will change the way you do business in 2017.
Live video feeds will connect brands with consumers in real time. Businesses will sell products directly through social media. Data visualisation will transform raw data into actionable insights. And the Internet of Things (IoT) will drive social proof.
Here are seven trends to consider when preparing your business's marketing and digital strategy this year.
Live feeds feature highly
Marketing via video content has been increasingly popular in recent years, but 2017 will be all about live video feeds. Use tools such as Facebook Live and Snapchat Stories to broadcast events around your brand in real time, like new product launches, press events, product demonstrations and special behind-the-scenes footage.
Selling goes social
Social media 'buy' buttons may have gotten off to a slow start in 2016, but pundits foresee the tide turning in 2017. Platforms such as Facebook, Twitter and Pinterest already allow businesses to sell directly through social media by adding 'buy' buttons that allow users to directly purchase products without leaving the platform. As mobile shopping gains momentum, companies should work on improving the checkout experience and driving customers through the marketing and sales funnel.
Engagement trumps traffic
2017 will be the year that small businesses embrace the importance of engagement over website traffic. While boosting website traffic has long been the ultimate goal, brands are increasingly focusing on engagement. To calculate the engagement percentage of a piece of content, divide the number of comments it attracts by the number of followers you have. Pay attention to the type of content that scores the highest engagement percentage.
Augmented reality arrives
The Pokémon Go phenomenon of 2016 demonstrated just how powerful augmented reality (AR) can be, but 2017 will see it mature as a marketing tool. AR is extremely innovative and engaging as it superimposes digital information over real-world scenes. Examples of how brands are using it for marketing include BMW's i Visualizer – an app that's being developed in collaboration with Google's Project Tango – which uses AR technology to allow prospective buyers to view a virtual car, or the Ray Ban Virtual Mirror app that maps various shapes and colours of sunglasses on customers' faces.
Data visualisation goes mainstream
We've all read about how big data is changing the way companies communicate with consumers. Making sense of those complex, endless streams of data will become easier in 2017 as data visualisation tools are embraced by mainstream businesses. Data visualisation tools such as Chart.js and Tableau take raw data and create easy-to-understand charts and tables that help marketers identify consumer trends.
IoT drives social proof
IoT is powering a new generation of internet-connected smart devices, and brands will increasingly use IoT to drive social proof in 2017. For example, fitness tracker Fitbit acts as its own marketing tool. The device encourages users to share their fitness data on social media – essentially turning every user into a brand ambassador for the product.
Contact management maximises leads
Face-to-face networking remains an important element of business growth, but managing the business cards you collect has had a 21st century makeover. Contact management technology scans your cards to create an accurate client database you can easily share within your business to maximise your contacts company-wide.
From live video feeds to AR and sophisticated contact management technology, 2017 promises to serve up a range of digital trends you can utilise to drive your business's growth.